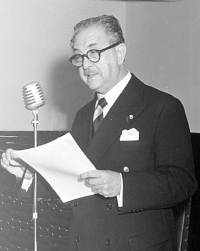 President of IBGE: 1952-1954
Son of Florêncio Carlos de Abreu e Silva and Gonçalina Simões de Abreu e Silva, he was born in Rio de Janeiro on January 13, 1882. His family moved to Rio Grande do Sul when he was a child. He attended primary and secondary schools in Porto Alegre, as well as part of his under graduation at the Law School of Porto Alegre. In December 1905, he also graduated from the Free College of Social and Law Sciences in Rio de Janeiro.
After graduation, he returned to Rio Grande do Sul, where he built his career as a judge. In 1904, Abreu e Silva was appointed District Judge of Taquara do Novo Mundo and Judge in São Borja. He also worked in Rio Pardo (1913) and Santa Maria (1917). Nominated Judge of the Supreme Court of the State on August 8, 1924, he was also Attorney General from 1924 to 1927 and from 1932 to 1934. Abreu e Silva also worked as Director of the Public Archives of the State of Rio Grande do Sul (1919-1920) and as Chief of Police (1928-1932).
A founding partner of the Historical and Geographical Institute of Rio Grande do Sul, he was elected President of its first directorate (1920-1934).
He was also elected Federal Deputy in 1934.
As a jurist, he participated in the National Juridical Congress and in the Conference of Judges in 1943. Still in 1943, Abreu e Silva contributed to the draft of t the commercial, misdemeanor and criminal proceeding codes reform.
President of IBGE from September 15, 1952 to September 21, 1954, Florêncio Carlos de Abreu e Silva lived difficult days in the institution. Nonetheless, he imposed a remarkable line of action to ensure the traditionally good performance of IBGE. Abreu e Silva managed to bring back the balance and discipline, essential to those working in Statistics and Geography.
Florêncio Carlos de Abreu e Silva passed away on February 20, 1969 in Rio de Janeiro.